2019
Basement Theatre, Auckland/Forum North, Whangarei
Written by: Jo Randerson
Directed by: Stef Fink
Lighting: Jane Hakaraia
Design: Micheal McCabe
Sound Design: Deb Frame
Performed by: Francesca Browne, Seto Ierome, Elsie Polosovai, Jasper Putt and Sherry Zhang
'You have 60 minutes to come up with a vision to save the world, and the timer's ticking - what will you do? Bursting with wit, energy and tenacity, LIKE A RIVER is an unpredictable and rule-breaking countdown to a better, different world. In a lively conversation with each other and the audience, our ensemble of five oddball individuals wrestle with the complexities of what it means to be a hero.'


LIKE A RIVER was written by the brilliantly funny and acclaimed playwright Jo Randerson. Jo's award-winning shows have played in New Zealand and worldwide, and her writing has twice been shortlisted for the International Institute of Modern Letters Prize.
'It's a wild world out there at the moment - as my eleven year old son puts it: "It's like in every direction you turn, there's a problem." We know so much about what is wrong, and we live on a planet whose future is uncertain. How do we work towards solutions without resorting to any of the violent, binary, hierarchical thinking that has caused so many problems in the past? The title is in reference to a Lao Tzu quote, who considers the way of 'water' to be the highest way: "Against the hard and the strong, nothing outdoes it, for nothing can change it, the soft overcomes the hard."
JO RANDERSON
2018
Q Theatre Loft & Glen Eden Playhouse, Auckland
Forum North, Whangarei
Written by: Fiona Graham, Miriama McDowell & Denyce Su'a
Directed by: Sam Scott and Kura Forrester
Lighting: Jane Hakaraia
Set and Costumes: Micheal McCabe
Sound Design: Deb Frame
Performed by: Ebony Andrew, Celeste De-Freitas, Georgia Menhennet, Akinehi Munroe and Melanie Thachankary
KA MUA, KA MURI | WALKING BACKWARDS INTO THE FUTURE.
Three smart and sassy characters are navigating their future, traversing the many pitfalls of being young women in today's world. For anyone who has a sister, mother, grandmother or daughter, this contemporary and gutsy piece of theatre will take you on a whirlwind of a journey.
SIGHTINGS encapsulates what it means to have arrived in Aotearoa, to have been born here, to have ancestors whose bones are in our soil. Told by five gutsy young women, this work is funny, deep, dark and delightful.
2017
Mangere Arts Centre and Q Theatre Loft, Auckland
Directed by: Scotty Cotter
Assistant director: Tuyet Nguyen
Lighting design: Michael Craven
Devised and performed by: Ebony Andrew, Stef Fink, Celeste De-Freitas, Sieni Leo'o Olo, Akinehi Munroe, Eleanor Oxley and Jes'mine Palaaia
Devised by a cast aged 16-24, CHANCE TO IGNITE is a powerfully strong work that will snap your soul into joy and reveal the truths we so often keep to ourselves.
CHANCE TO IGNITE brings together seven brilliant young women and their real stories; spiced up with a dash of boxing and jujitzu and seasoned with a lot of sass. Providing the perfect chance to illuminate the world, this is a powerfully strong work that delivers joy and reveals the truths we so often keep to ourselves.
Honest, raw, dynamic and inviting, CHANCE TO IGNITE first exploded onto the Auckland stage in July 2017.
2017
Auckland, Whangarei, Hamilton, Wellington, Hawkes Bay, Christchurch, Dunedin
2016
Mangere Arts Centre and
Q Theatre Loft, Auckland
Directed by: Sam Scott and Scotty Cotter
Lighting design: Jane Hakaraia
Sound design: Drew McMillan
Set and costumes: Christine Urquhart
Devised and performed by: Milo Cawthorne, Scotty Cotter, Kura Forrester, Villa Lemanu, Bree Peters, Denyce Su'a, Patrick Tafa
An honest portrayal of the extreme power of love, THE WHOLEHEARTED is a heart-warming devised theatre work that spans generations, genders and cultures. A mix of characters tenderly and humorously share with us their search for a wholehearted way of life, exploring what people do in the pursuit of love and how love changes us.
Journeys of heartbreak, grief and loss are charmingly and vigorously transformed by the ensemble into the courage, compassion and joy that exists within each of us.
2016
New Zealand, Scotland
Directed by: Sam Scott and Miriama McDowell
Lighting design: Jane Hakaraia
Set and costumes: Christine Urquhart
Devised and performed by: Melissa Connors, Stef Fink, Liam Jacobson, Sieni Leo'o Olo, Jes'mine Palaaia and Denyse Su'a
Woven island stories of footsteps, friendship and family.
We live on islands scattered across the Pacific far at the bottom of the world. Sometimes it can feel like we're completely isolated…
Six young performers share tender and funny stories as they navigate their way through what it means to grow up on islands.
Family stories, whakapapa and memories are woven together through character, music and heart-pounding physicality, reminding us that should we ever feel isolated, home is no more than a few footsteps away.
2012-2015
Auckland, Wellington, Hawaii
Directed by: Sam Scott and Carla Martell
Lighting design: Jane Hakaraia
Styling: Sara Taylor
Costumes: H U F F E R
Devised and performed by: Neil Amituanai, Dominic Ona-Ariki, Scotty Cotter, Todd Emerson, Leki Jackson-Bourke, Beulah Koale, Jonny Moffatt and Andy Sani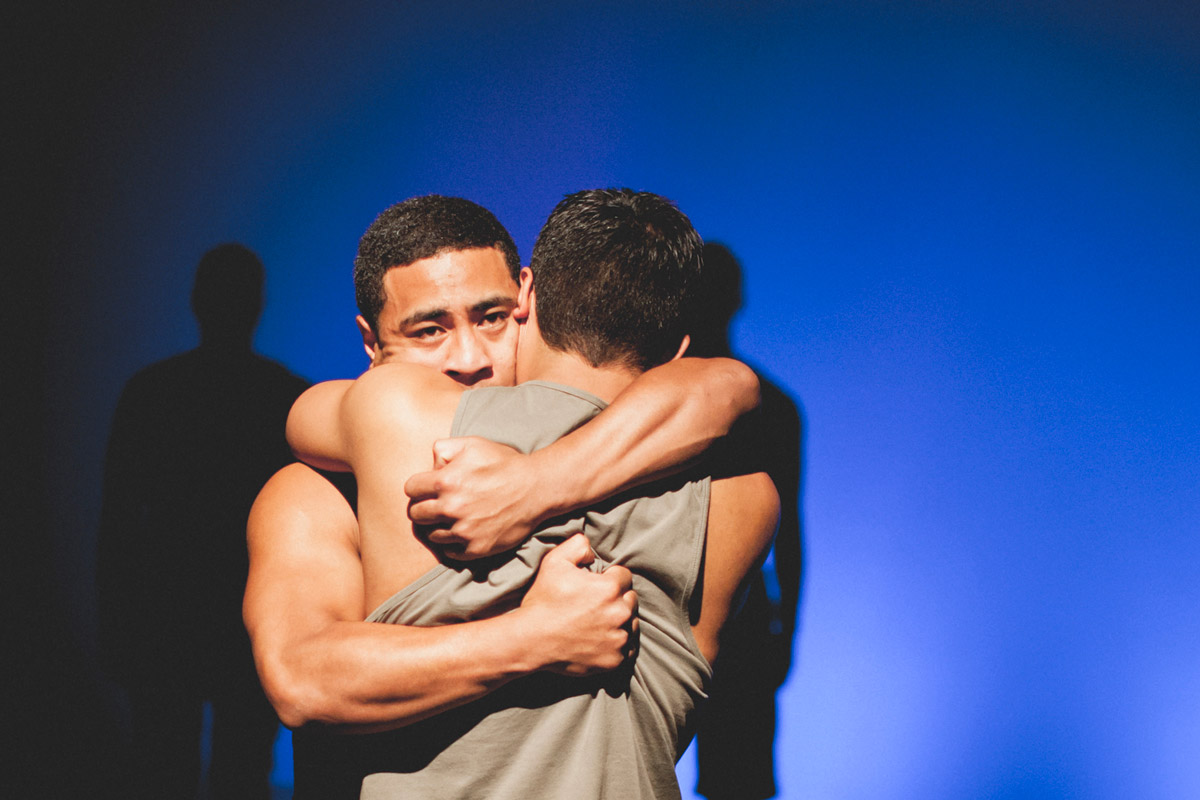 Showing bravery defined by a new generation, eight young men take to the stage to honour those people who are or once were in their lives.
Combining true confessions with raw athleticism, these men find strength through family, love, loss, fear, hope, belonging and brotherhood. THE BRAVE lays it all on the line. It's time to man up!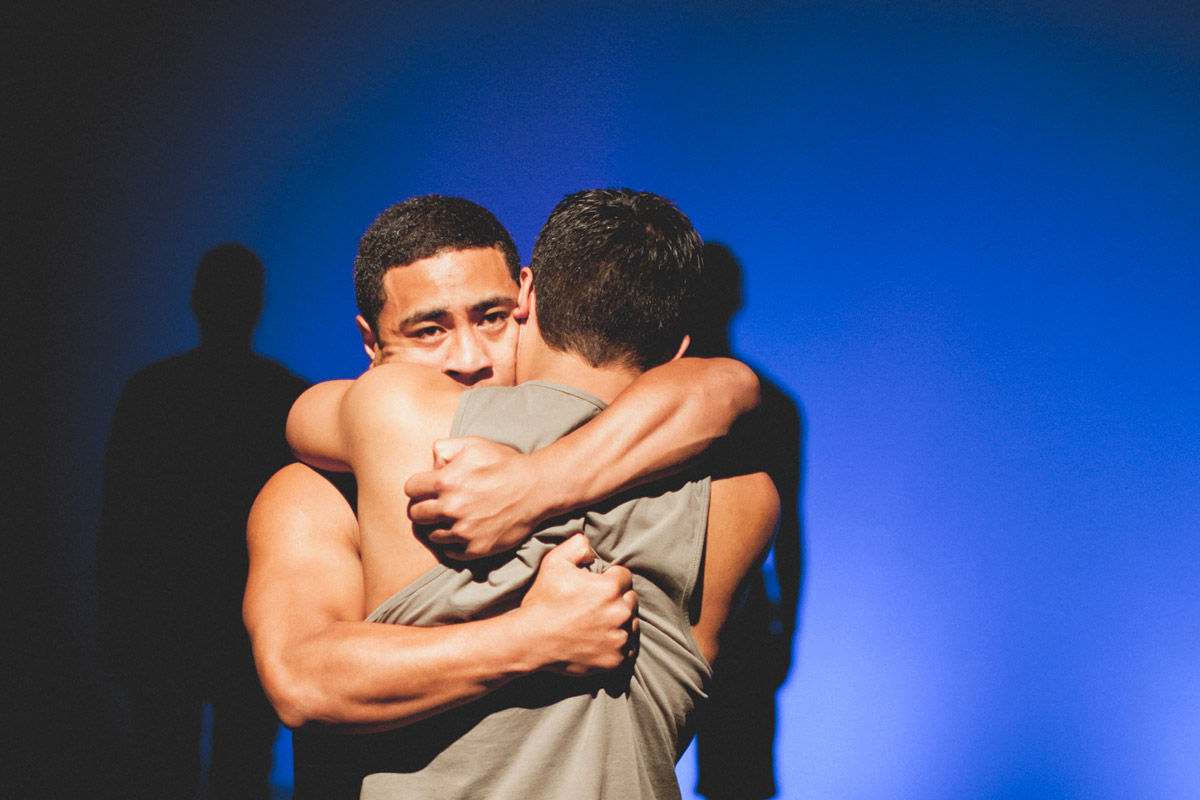 2014
Auckland Town Hall Concert Chamber
Written by: Gary Henderson
Directed by: Sam Scott
Musical direction: Chris O'Connor
Lighting design: Jane Hakaraia
Costumes: Daniel Williams
Animation: Cut Collective
In collaboration with NZTrio
Performed by: Neil Amituanai, Dominic Ona-Ariki, Wesley Dowdell, Miriama McDowell, Tuyet Nguyen and Max Palamo
NZTrio: Ashley Brown, Justine Cormack and Sarah Watkins
"My story is written in laughter and strife, if you know how to read it you can see my whole life" - Gary Henderson.
Honouring the people, soundscapes and places that make us who we are and shape the worlds we live in, MY BED MY UNIVERSE is rooted in the rhythms of New Zealand's everyday riffs. A genre-busting, eye-opening theatrical event that roams the perplexing space between the moment we wake and the moment we return to our beds to sleep, it's layered with original live music, surprising sonic mixes, melodic vocalisation and beautiful physical theatre.
My Bed My Universe evolved out of a dynamic and utterly unique collision of some of New Zealand's leading creative talents – a script by playwriting legend Gary Henderson, direction by the indomitable Sam Scott, the bold urban voices of Massive Company, fresh sounds from indie composer Chris O'Connor and mind-blowing modern classical music from the NZTrio.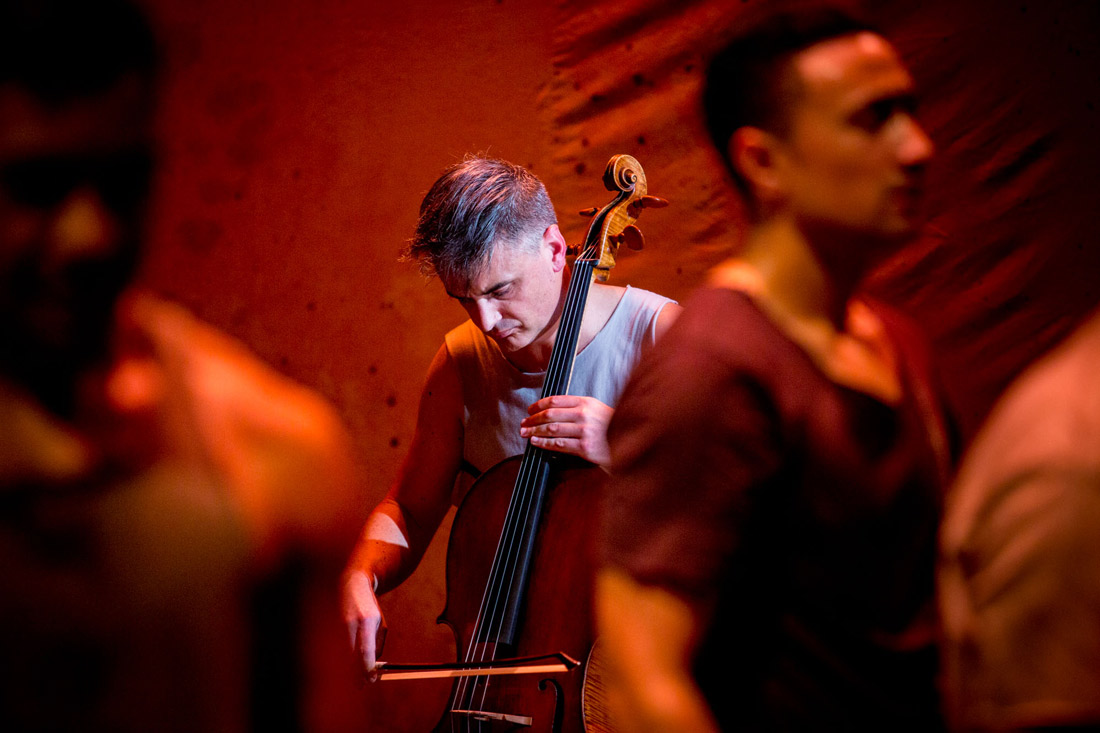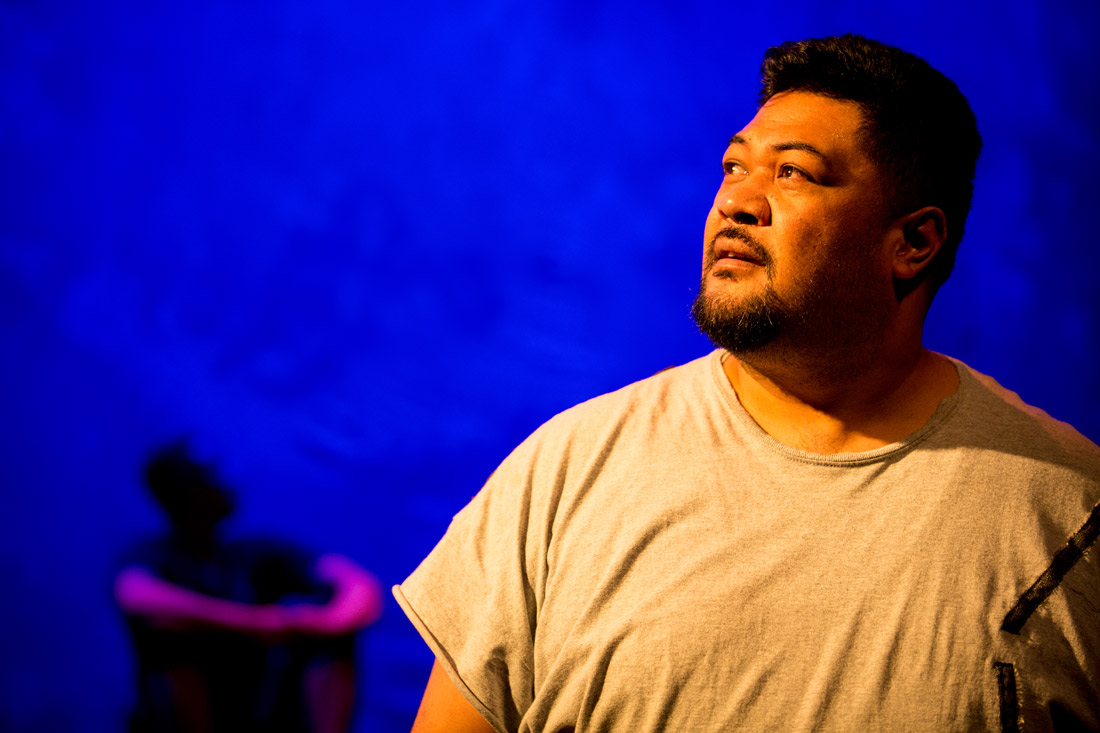 Written by: Lennie James
Directed by: Sam Scott
Lighting design: Jane Hakaraia
Set and costumes: Sean Coyle
Music: Tama Waipara
Sound design: Sean Lynch
Performed by: Fasitua Amosa, Olive Asi, Loretta Aukuso, Scotty Cotter, Wesley Dowdell, Joe Folau, Kura Forrester, Ash Jones, Tuyet Nguyen, Beulah Koale, Miriama McDowell, Bree Peters, Nicole Thomson and Jake Toaga
Written by: Albert Belz
Directed by: Sam Scott
Assistant director: Scotty Cotter
Lighting design: Jeremy Fern
Set and costumes: Tracey Collins
Composer & sound designer: Tama Waipara
Performed by: Wesley Dowdell, Kura Forrester, Bree Peters,
Jarod Rawiri, Madeline Sami, Blair Strang and Tainui Tukiwaho
Directed by: Sam Scott and Carla Martell
Assistant directors: Scotty Cotter and Kitan Petkovski
Lighting design: Jeremy Fern
Devised and performed by: Olive Asi, Loretta Aukuso, Genevieve Ford, Tuyet Nguyen, Sammy-Rose Scapens and Nicole Thomson
Directed by: Sam Scott and Carla Martell
Assistant directors: Wesley Dowdell and Joe Folau
Lighting design: Jeremy Fern

Devised and performed by: Scotty Cotter, Jack Haldane-Willis, Winston Harris, Ash Jones, Dominic Ona-Ariki, Kitan Petkovski, Misiarona Puni and Tainui Tukiwaho
Written by: Briar Grace-Smith
Directed by: Sam Scott
Lighting design: Bryan Caldwell
Set and costumes : Tracey Collins
Performed by: Wesley Dowdell, Taungaroa Emile, Joe Folau, Miriama McDowell, Madeleine Sami, Foma'i Taito and Jason Te Kare
The Sons of Charlie Paora
Written by: Lennie James
Directed by: Sam Scott
Lighting design: Bryan Caldwell and Jennifer Lal
Set and costumes: Tracey Collins
Performed by: Wesley Dowdell, Joe Folau, Kiri Lightfoot, Max Palamo, Liston Rua, Fomai'i Taito and Jason Webb